Article Courtesy of Round Top Festival Institute
Students from conservatories and universities in the United States and abroad pursue their musical studies at Round Top under the guidance of an international faculty. These young musicians have an opportunity to learn through an intensive summer music education program hosted at The Round Top Festival Institute.
A sale and benefit fund raiser, The Great Shed Sale at Round Top Festival Institute, will be held Jan. 18-22, 2023 with all proceeds going to this institute.
Festival Institute's Mission
TO EDUCATE and train young musicians through an intensive summer music education program and a comprehensive series of public performances.
TO PRESENT educational forums and music events featuring distinguished musicians, musicologists, art historians, humanities experts, writers and poets.
TO COMMISSION and present original productions of new compositions, operas, dramas and ballets for the general public and the training of young artists.
TO COLLECT rare books, historic manuscripts, archival materials, music and objects for scholarly research, educational purposes and as a service to the public
While the number of Festival-Institute alumni is in the thousands, the project manages to give each student the personal attention that has been a hallmark of its program: it is both a festival and an institute, where students and faculty perform for appreciative and large audiences. The concerts are broadcast through a yearly program titled "Live at Round Top" over public radio stations from coast to coast. The Fayette County Record Newspaper published a continuing series of articles on the student musician's performing on the hill.  Flutist Sarah Shin was featured in June 2017.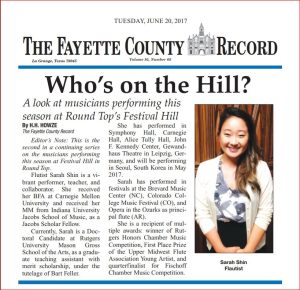 The campus is also used for conferences, meetings and retreats. The Festival Concert Hall, completed in April 2007, is one of the best in the country, acoustically speaking and strikingly beautiful. It is used for recordings. Major business groups, museum administrators, music critics, law firms, and numerous university and professional organizations have held conferences and retreats here. A series of distinguished museum lectures is presented at Festival Hill each year. The campus, famed for its gardens, rare trees, herbal collections, cascades, fountains and unusual landscaping, is a destination for visitors from all over the world. An outreach program of public services concerts featuring students and faculty extends the benefits of the Festival-Institute to the surrounding community.
How Round Top Festival Institute Started
Concert pianist James Dick established Round Top Festival Institute in historic Round Top, Texas, in 1971. Dick, a performer with a distinguished career, was uniquely qualified for the task of creating a 200 acre campus and organization to operate one of the major music festivals in the United States. Dick graduated from the University of Texas with special honors in piano in 1963 and was a student of pianist and pedagogue Dalies Frantz. Subsequently, Dick received two Fulbright Fellowships for study at the Royal Academy of Music in London and private study with Sir Clifford Curzon, a major pianist of the twentieth century. Dick was also a top winner in the Tchaikovsky, Busoni and Leventritt international competitions and since has represented the United States on the juries of the Tchaikovsky Competition in Moscow and the Van Cliburn Piano Competition in Fort Worth. His concert tours take him throughout the United States and abroad each year. He was named a Chevalier des Arts et Lettres by the French Ministry of Culture in 1994. In 2003, James Dick was Texas State Musician appointee. He received the 2009 Texas Medal of Arts for his work in the area of Arts Education.
The 1971 Festival, a ten-day session with ten piano students, included two concerts. During its first five years, the Festival-Institute leased facilities, but a master plan of development was soon established for programs and the future of the permanent campus. The first major facility, the Mary Moody Northen Pavilion, was acquired in 1973. It was the largest transportable stage in the world and was used for open-air concerts until 1983. Later, it was housed in the 1,000-seat Festival Concert Hall, on which construction began in 1981, until the permanent stage was completed in the Concert Hall in 1993. An abandoned school building and six acres of land North of Round Top were acquired in 1973 for a future campus to be named Festival Hill. The festival and its year-round operations moved to this site in the Bicentennial Summer of 1976.
Round Top Festival First Historic Structure
The first historic structure moved to Festival Hill came from La Grange and was named the William Lockhart Clayton House in honor of the man who created the Marshall Plan. Built in 1885, it was renovated in 1976 for faculty, offices, teaching facilities and indoor concerts. It features some of the most commanding woodwork on Festival Hill.
The Menke House, built in 1902, was moved to Festival Hill from Hempstead and renovated as a faculty residence and conference center in 1979. Its Gothic Revival ceilings, wood workings and staircases make it a showcase of Texas carpentry.
The historic sanctuary of the former Travis Street United Methodist Church of La Grange, built in 1883 was moved to Festival Hill in 1994, for restoration as a center for chamber music, organ recitals, lectures and seminars. It was renamed the Edythe Bates Old Chapel to honor one of the great Texan patroness of the Fine Arts and houses an 1835 Henry Erben pipe organ.
The Festival Institute Library & Museum Collections exhibits its art collections in the Festival Concert Hall and the historic house restorations. The David W. Guion Archives and Americana Collection and the Anders and Josephine Oxehufwud Swedish and European Collection, have unique hand-crafted galleries in the Festival Concert Hall.
Other facilities have been built to house accommodations, practice, teaching, meeting and seminar rooms for the Festival and for year-round programs and conferences.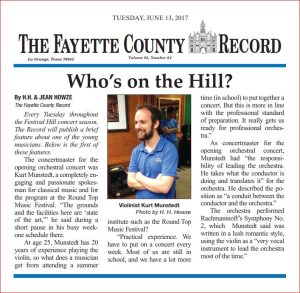 Round Top Festival Hosts More Than 30 Concerts Each Year
The two-concerts season in 1971 have grown up into more than 30 concerts during June and July each year. The August-to-April Series, the International Guitar Festival, the Theatre Forum, The Poetry Forum, and the Herbal Forum bring the total number of year-round events to more than fifty.
The repertoire extends from the Ancient to contemporary music. The first commissioned work "Etudes for Piano and Orchestra" by Benjamin Lees was nominated for the Pulitzer Prize. The Festival-Institute commissioned a new concerto for piano and orchestra, "Shiva's Drum" by American composer Dan Welcher as part of its twenty-fifth anniversary celebration. James Dick performed the work with the Texas Festival Orchestra conducted by Pascal Verrot on June 11, 1994. Another work for piano and orchestra, "Theme, Variations and Fugue" titled "Rasmandala" by British composer Malcolm Hawkins was premiered on June 8, 1996. In January 1997, the Festival-Institute commissioned Professor Chinary Ung to write a Choral-Fantasy for piano, chorus and orchestra titled "Rising Light." The world premiere was performed on June 27, 1998 at Round Top.
How the Popular Bi-Annual Round Top Antiques Fair Began in 1968
Plan your trip and gain valuable insight into this antiques extravaganza adventure. How Round Top Texas Antique Fair Began