Spending the day in the countryside, wearing jeans and sneakers, eating barbecue, basking in the bluebonnets in April and the autumn air in October, immersing yourself in endlessly curious and enticing antiques – how could this not be a bit of heaven, according to the book co-authored with Beverly Harris by the Round Top Antiques Fair founder, Emma Lee Turney.
The popular 54th bi-annual Fall Round Top Antiques Fair is set to begin Thursday, October 12 – Sunday, October 29.
Plan your trip and gain valuable insight into this antique extravaganza adventure.
Denim and Diamonds is a fitting phrase for the Round Top Antiques Fair. It is also the name of the book co-authored by Emma Lee Turney and Beverly Harris. It is the story of Emma Lee Turney's Round Top Antiques Fair and how this now huge bi-annual event began in one small venue in Round Top, Texas in 1968. When the show began, shoppers from Houston would come to the fair to purchase one-of-a-kind antiques for their second homes in the country.
And, at that time in 1968, there were no flea markets. At today's fair, you will find some of these markets amid what is considered the authentic and best antique venues like Marburger Farm,  Big Red Barn, Cole's in Warrenton, and the renowned Junk Gypsy Company, located between Round Top and Warrenton.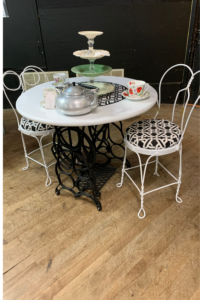 Shop Your Way To and From Round Top Antiques Fair
If you are planning to travel to attend the huge Round Top Antiques Fair this spring, you'll want to check out our handy Shop Finder Map to find antique shops all over Texas to shop your way to and from this event! Within seconds you can know how many antique shops are within any given city and find their location. Many of these shops are not located on google as they have fallen under the google radar. And, we have provided a phone number for each shop so you can make sure they are open for business that particular day.
You can easily and accurately find all shops within a town using the only comprehensive Texas Antique Shop Directory around.
Dealers, have you considered using our directory to add to your inventory on the way to the show, or restock on your way home?
Round Top Antiques Fair is A Treasure Hunt, Festival of Epic Proportions
Regardless of what you are looking for, you will find it at the Round Top Antiques Fair. Everything from authentic antiques and vintage items to plants, crafts, and Mexican dresses. Whether the shopper comes in a Mercedes or a Pickup truck, everyone is a country gal or guy for the day wearing jeans and comfortable sneakers.
The Round Top Antiques Show is more than dusty relics and shabby chic signage. It's 3-plus weeks full of people flocking to Round Top, Texas, from across the U.S. It's treasure hunts and a festival of epic proportions. It's food, fun and friendships formed over shared searches for one-of-a-kind finds, according to https://www.exploreroundtop.com/antiques/
Vendors start to set up around October 15 and the faire runs until October 31st . Texas Antiques Week takes place over three weeks that end the first weekend of April and October each year and its makeshift, temporary venue of tents and buildings house a broad collection of independent show promoters and local entrepreneurs who provide space for several thousand antique, collectible, craft vendors and dealers throughout the several small communities.
This antique extravaganza is located near the midpoint between Houston and Austin, Texas. The largest hubs of activity center in, and around, the rural communities of Warrenton, Round Top, Shelby, Carmine, Fayetteville, Oldenburg, and Rutersville. The nearby "big cities" are La Grange, Giddings, Columbus, Brenham, and Smithville.
Navigating the Round Top Antiques Fair can Prove Overwhelming 
Navigating this event can be a little overwhelming as the Round Top, Texas population swells from 90 residents to tens of thousands during the event. According to Dewain Belgard, Carmine Antiques Shop owner, the infrastructure of these small Round Top area communities are being asked to support more than they can bear and at peak traffic times, it can take a shopper an hour to travel 7 miles from Round Top to Warrenton, Texas. Check out some navigation tips Read More
Beginner's Guide to Round Top Antiques Fair
For more in-depth and valuable information about some of the show venues, check out The Beginner's Guide to the Round Top Antiques Show "What we learned from flea market pro Annie Sloan" Read More