If you're in west Texas, check out the antique Stores Midland Texas. There are 7 shops in Midland and 2 shops in Odessa, Texas, located 20 miles west of Midland. – Midland and Odessa have been named the twin cities.
Midland is home to 9 antique shops that offer a variety of unique items to include authentic antique and vintage clothing and accessories from all past eras, furniture, home décor, glassware, tools, jewelry, and everything in between.
Known as the Petroplex, Midland and Odessa have a combined population of 295,000 and are located in west Texas halfway between El Paso and Dallas, Texas on interstate 20.
Rustic Windmill Midland: Vintage Inspired Market
As I walked in, I saw part of a real windmill suspended from the ceiling and hanging close to and over the front check out counter. The windmill section was hung sideways and featured 6 fan blades with a double vane. This windmill was removed from a ranch in Andrews County in the 1960s. Owner Beau Estes said his dad and grandad took it down. Beau and Barbara Estes have 3 family ranches that span across Midland, Andrews, Ector, Martin and Stephens counties.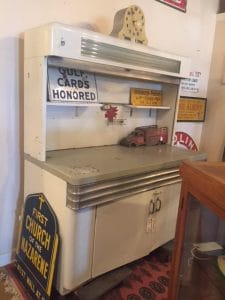 Two unique and unusual Items that have been available in the past and for sale at Rustic Windmill
1960s Registered REST ROOM Texaco Dealer Service: $495.00
Hard to Find! 1930s Garage Men's Work Station Bench: $2500.00
Wall Street Antiques: 19,000 Square Feet of Antique Stores Midland Texas
Wall Street Antiques & Collectibles offers yet another special stop in a Midland day shopping trip because this mall has more than 19,000 square feet of shopping and 120 vendors.
Located in the heart of West Texas, in Midland, Texas, Wall Street Antiques is one of the premier antique shops in the area! Wall Street is the largest antique mall from Fort Worth to El Paso with nearly 20,000 square feet of space, chock full of all of your antique shopping needs! In addition to providing and selling some of the most treasured, unique antique items you will find, they also offer estate clearing services and spaces for vendors to sell their antiques.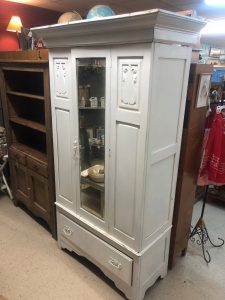 You will be amazed at the vastness of this antique mall! From the moment you walk in, you will be captivated by the tall walls and organized aisles full of amazing treasures. They sell everything from antique furniture such as couches, loveseats, antique dining table sets and more. Additionally, they have an amazing selection of glassware and porcelain items so that you can fully deck out your dining room table
This is an all-in-one antique shop. On top of selling antiques and vintage items, they also will clear out and help you sell items from your estate. Whether you are moving, or somebody has passed away and you need some help selling off your precious and valuable items, Wall Street Antiques can help. Teresa Newman is a certified appraiser with more than 20 years of experience.
Stop for Lunch at Midland's Favorite Drive-In Diner
A special place to stop for lunch that is always a treat during your Midland Antique Store shopping day is Midland's Favorite Drive-In Diner for more than 50 years. It is located just across the street from Sunflower Showcase Antiques, Bob's Better Burger, located at 3417 Thomason Drive, has been a Midland favorite hamburger drive in for more than 50 years and according to the Midland Reporter-Telegram's Top 100 contest, voters selected it as the best. Bob's is a Midland must-have featuring chocolate, vanilla, and strawberry malts, and milkshakes.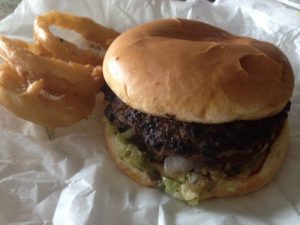 Bob's has been at this same location on Thomason Drive for more than 50 years. The original sign is still out front and the outside of Bob's Better burger is not inspiring… but go ahead, take a chance. This is a drive up, get out and order, then take it with you or eat in the car. Delicious burgers and crispy crinkle-cut french fries, onion rings and tater tots cooked whenever you order, not ahead of time!
Chili, cheese, or bacon can be added to the burgers for an additional charge. You can also order a double-meat burger, a large jalapeno burger, and a super jalapeno burger. The bread is toasted, the cheese is melted, and the food is piping hot, fresh, and made to order. Corndogs are made with homemade batter.
The Cat's Meow: Vintage Hat Styles Popular Antique Stores Midland Texas Shopping
The Cat's Meow and its owner, Steven Porterfield, is known worldwide for authentic antique top-of-line vintage and antique clothing. This antique shop offers fine china, estate jewelry, clothing and accessories, furniture. Historic clothing is a unique specialty of The Cat's Meow Antiques Store, in Midland, Texas.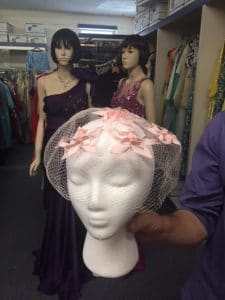 Steven is a native Midlander but travels 50,000 miles per year on buying trips all over the United States The Cat's Meow Provides Historic Clothing for Movies
Steven Porterfield, owner of The Cat's Meow in Midland, Texas is currently selling a lot of vintage hats. The Cat's Meow Video
"I have  300 to 400 in the back room that I need to bring out for display." Certain styles sell well, like the big outrageous hats for the Derby parties. Fascinators are a big fad. Fascinators are little cocktail hats. The little girls love these hats and they sell for $15 in his store. The fascinators are also being used as wedding veils.
Another popular trend is to use vintage jewelry to make a wedding bouquet out of vintage brooches. Vintage Hats A Popular Trend
Found Furnishings: Eclectic mix of Repainted Furniture, Repurposed 

Found Furnishings is a bit different than the other antique shops in Midland because Found carries quirky, unusual, repurposed, and painted furniture.
"We are always, always on the hunt for more dressers because we can't keep them in." Owner Jeannie Eads said. "Most of the time these dressers are repurposed for changing tables and television entertainment centers." The 20 to 40-year-old age shoppers like the quality of the vintage and antique furniture, but prefer repainted furniture that has been upcycled for a modern twist.
"We don't have a lot of shops like this in Midland," Jeannie said they try to set themselves apart at Found Furnishings and offer fun and quirky items for sale. The store is stocked with a lot of mid-century modern furniture and quirky items.
Found Furnishings is an eclectic mix of custom, upcycled, repainted furniture and repurposed pieces. They offer industrial and architectural, mid-century modern, upcycled, re-loved, and vintage furniture.
Old Town Tiques: Repainted Furniture, Old and New, Boutique Items
The next stop on my antique stores Midland Texas day shopping was a quaint little shop is located one block over and across the street from Found Furnishings at 306 Secor Street. Sabrina Edwards owns Old Town Tiques and she has 35 vendors who keep their booths stocked so the merchandise changes on a daily basis with a lot of repainted furniture that has been upcycled.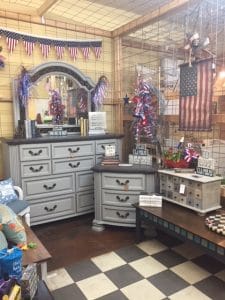 This shop has a little bit of everything – old and new, repurposed and repainted furniture.  Items include antiques, new items, refurbished items, crosses, repainted furniture, chairs, repainted old shutters, doors, corbels, old truck door, jewelry, tables, repainted desks, essential oils. For more information visit Old Town Tiques shop listing at Old Town Tiques
Antiques Stores Midland Texas Yesterday's News Open Saturdays
Yesterday's News
 features an eclectic mix of unusual finds. Shoppers enjoy an uncluttered, easy-to-browse store where prices range from$2 to $850. Lots of vintage finds, collectibles & antiques. Just down the street, you will find The Old Lumberyard. The store is only open on Saturdays from 12-6 p.m. Robert said you can text him at any time. Outside capacity with 2 buildings. We have a lot of great Texas artists, originals, and prints. We have some good quality furniture. If something is 100 years old, it will be around another hundred years. A good pandora mix of 70's music is playing all the time in the background. 1930's petticoat that would work for a light fixture. Robert can turn your vision into your own creation.
"It's a lot of fun."
The Old Lumber Yard Trade Days
Old Lumber Yard Trade Days are open the second weekend of each month: March-November. This Trade Days features three large tin buildings with vendors from junk treasures, vintage items, antiques and collectibles, food trucks, and much more for a unique shopping experience during your day of shopping antique stores in Midland Texas.
Odessa Texas Antiquing – Just 20 Miles West of Midland
Located just 20 miles west of Midland, don't forget to go antiquing in Odessa Texas. If you're looking for that one-of-a-kind find and you didn't find it in Midland, you just might find it in Odessa. Roof Antiques is one of the best places to shop locally to find one-of-a-kind treasures you can't get online or in big chain stores.