By: Betty Forbes
I recently had the pleasure of spending a wonderful day shopping at Weatherford Texas Antique Shops. This cute town has one of the most quintessential town squares that I have encountered.  The breath-taking courthouse seems to be the beacon that welcomes visitors to the many shops and scrumptious eateries lying just to its immediate north.
Weatherford Texas Antique Shops Have Vendors That Offer Variety
I began my morning at Miss B's Antiques The vast number of vendors and variety of items did not disappoint.  I found a lovely brass heron to add to my collection!  I only had to head a little bit north-west to arrive at  Favorite Finds and Firearms This is a very unique place with a vintage/antiques shop on one side and a firearms store on the other side!  Ladies, this is a great place to leave your husband if he is not into junkin!
A short walk south on York Avenue brought me to a unique shop called The Haps Vintage Store  This shop specializes in retro/vintage clothing and they have quite a selection!  There are lots of cute choices that you won't find anywhere else.  My love for boutique-style clothing always leads me to Zinnias 2 Zebra Boutique.  The sassy fashions and lovely costume jewelry always say "come hither!"  I know if I am looking for something special, Patty or Carmella will help me find just what I am looking for.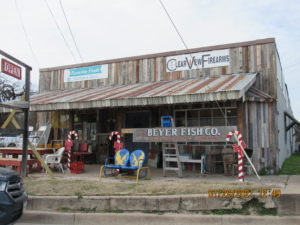 Sandwich Shops and Tea Rooms To Satisfy Any Appetite
By this time, I had worked up quite an appetite and was close enough to Yesterday's Sandwich Shop to smell the fresh bread baking!  I can't even begin to explain how much this makes my mouth water.  Inside, I ordered my absolute favorite, a chicken salad sandwich and cup of soup.  Everything tastes so freshly "home-made" and during these challenging pandemic days, I really appreciated how they practice safety guidelines for ordering and spacing of tables.  Picking a place to eat is always so hard for me because I can only pick one!  I have also eaten at the Painted Pony Tea Room & Café before with several friends and it was wonderful as well.  The food is delicious and the attention you receive will make you feel like you are the only one there.
During a previous trip to shop at Weatherford Texas Antique Shops, I discovered the Malt Shop of Weatherford.  This is a classic malt shop that is not downtown but is worth visiting just a short jaunt (3 miles) from downtown on the Fort Worth Highway. It has been in existence since 1958 and you can't miss it because it is pink!  They do not have indoor dining, but there are some outside tables and the food is so good, I don't mind eating in my car!  If only my stomach wasn't so full, I would go get a dip of their ice cream flavor of the month!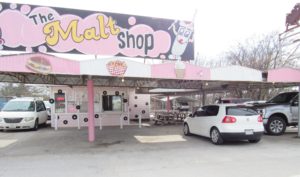 After my highly satisfying lunch, I headed to Main Street Mercantile where some vintage hand-tooled leather purses really caught my eye, as well as an impressive collection of children's books and western décor.  Just a little further down Main Street, I made sure to stop by Just 3 Days because they always have such a great variety of super cute vintage and reproduction items as well as authentic treasures from long ago.
Beautiful Vintage Decor with Authentic Wagon Elevator
When I am in Weatherford, I never miss a chance to visit The Shoppes at Carter Ivy  Inside the shop, you will find an authentic wagon elevator!  They always have it seasonally decorated and the abundance of beautiful vintage and antique décor is amazing.  Where else could you see a wagon elevator?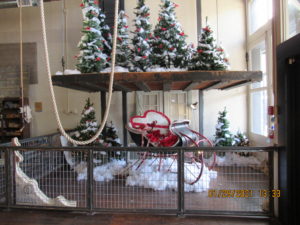 A dash into the Back Home Bakery is always necessary.  My favorite is the "Hootie Cookie."  It is simply a mouthful of deliciousness!  With my sweet tooth satisfied, I headed south to explore Blessings Recycled Antiques and More  This antique store is in a beautiful old building on Dallas Avenue, facing the courthouse.  There were three floors to quench my junkin thirst!
Weather Texas Antique Shops located in historic downtown has plenty to keep me busy for an entire day whenever I visit, but there are some other places off of the square that are worth mentioning.  A few streets off of Main Street is The Junktion  I found that they offer a wide variety of high-quality gift ideas for women and children.  One of my favorite places to visit is the Farmer's Market.  I always find fresh fruit and veggies as well as some tasty marinades and jellies before I make the drive back home from my Weatherford Texas Antique Shops day shopping trip.
Weatherford is one of my all-time favorite day trip destinations.  I love how easy it is to park and walk to all of the beautiful shops and eateries downtown.  Who would want to spend a day at the mall or big box stores when you can have such inviting and unique antique shopping and more experience in Weatherford?  I can't wait to return soon for another visit!
For more things to do and cool places to visit in Weatherford, Texas check out the 15 Best Things To Do In Weatherford, Texas.