Janis Teague had a clear vision for this store to be a blessing to all involved where respect for Christian values is a priority. A note about the owner: Janis Teague started Blessings Recycled Antiques & More with a vision. Her philosophy has always been to pay forward and give back to the community. While visiting other antique stores near and far, her dream had always been to have her own antique mall. Through prayer and hard work, Blessings Recycled at 112 Dallas Street in downtown Weatherford was born.
"I highly recommend you visit this adorable shop. they have a huge variety that covers 3 floors. They will go above and beyond to help you," Stephanie Mercer
For even more great finds, check out their FACEBOOK PAGE
Blessings Recycled Antiques & More is located on the courthouse square in the downtown historic district of Weatherford, Texas. Construction dates back to the 1860s. It was one of the first sets of buildings constructed after Weatherford was incorporated in 1858.
"This is a great store with very unique antiques! If shoppers are looking for home decor they have everything from A to Z! furniture to glassware and vintage, Mid-Century Modern, western, retro, shabby chic to Victorian!" Sharon Hamermon.
Heather Rasmussen Grenier said, "We loved shopping in this adorable store. We met sweet Gina Smith who pointed out several interesting items to us and even some interesting things about the building. We loved hearing Ms. Gina's stories and both she and Ms. Rhonda made us feel right at home. We will definitely be back!"
This building still has original floors and you can see the square nails which were used in construction until the late 19th century. One of several unique features of the building is the stairwell leading up to the attic. Over the years several people have left their names and dates in pencil on the walls. Several dates go back to the 1800s.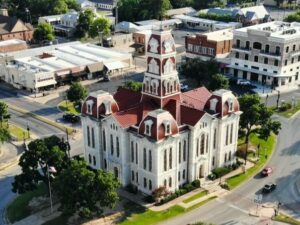 Click the following link to learn more about the history of this shop Antiques-historic buildings Weatherford, TX