Photo Above Courtesy of The Cat's Meow Midland, Texas.
Vintage and antique finds always add character and interest to those special rooms. Items range from vintage crocks and Enamelware pots used for plants, to tattered shabby chic shutters repurposed as a bathroom shelf.
Check out the latest finds at these select Texas Antique Shops to find some of the best vintage and seasonal home decor. We will be featuring more shops soon!
Holiday Shopping is Here: Find Seasonal Decor at Antique Shops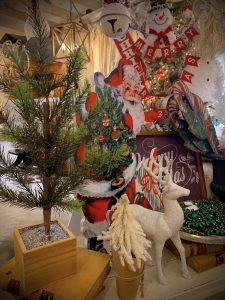 Golightly's Antique Mall, North Richland Hills, Texas
Here's just a glimpse of some of the new items to arrive at Golightly's in recent days!
Sarah and Kaylee Jane Lane Boutique offers a new children's clothing line back in the shop!
The holiday candles have arrived just in time for the cooler weather!
Come pick out your favorite fragrances while we have a fresh supply!
There's a new line of coffee products, because what's better on a Fall morning than a flavored cup of coffee?!
And, as always, the fashion spots in the shop are bursting with Fall styles, with new pieces arriving daily!
Open all weekend!
Benbrook Antique Mall, Benbrook, Texas: Seasonal Decor at Vintage Shops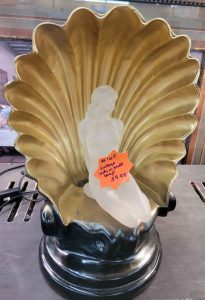 $59.00 Rotating Art Deco lamp. Stunning Deco rendition lamp with the beautiful Goddess Venus placed in the center of a clam shell. From Dealer 165
If you're looking for vintage or antiques that add warmth and charm to your home, Benbrook antique mall is a treasure trove of authentic, high-quality, furniture and accessories. Breathe new life into something old, loved and worn and repurpose it for a touch of style and authenticity.
When shopping for antique-looking pieces, buy authentic pieces from antique malls like Benbrook – Why buy cheaper-quality new pieces that were mass-produced to look old when you can buy authentic pieces at a fair price? Benbrook offers quality pieces at fair prices and most of the vendors run booth-wide sales.
This quality mall has a custom jeweler on site who offers independent designs and expertly curated jewelry!
See More and Check Out Their Facebook Page Too
Seasonal Decor at Vintage Shops: The Cat's Meow Midland, Texas
Steven Porterfield said it was time to change his front window and he wanted to do something country, so he filled the window with an 1880's wringer washer, American made kitchen bowls, majolica, turkey platters, tureens, gravy boats and salt and peppers. He added in an antique wheel barrow, old school desk, some fall leaves and pumpkins then – presto – the fall window.
This shops specializes in Vintage and Antique Christmas items such as the double glow metal icicles, Glow Molds from the 1950s and 1960s that can be used as yard art.
More than 2,000 pieces make up a Christmas Collection that features cheery Santas, snowmen, whimsical elves, and traditional ornaments that tell your favorite holiday stories. Step back in time and visit The Christmas Room at The Cat's Meow in Midland, Texas. Get Directions Now
Steven Porterfield has created a beautiful Christmas room filled with vintage Christmas items for sale. He said this room becomes a memory room for most people who visit.
Read More The Christmas Room with 2000 Items for Sale
Watch Video: Christmas Memory Room with Items For Sale
Moore Old Signs and Antiques, Crowley, Texas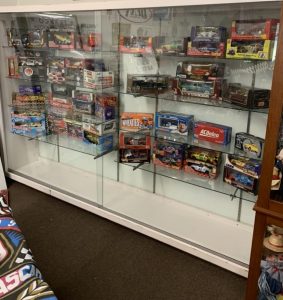 Advertising and western memorabilia, oil & gas cans, porcelain signs, butter churns, country crocks and enamelware, door stops and so much more.
With an eye for picking valuable vintage, 95 percent of every item in this shop is an authentic vintage or antique item collected over the past 30 to 40 years of yard and estate sale shopping in South Texas.