Tell your friends and start making plans to attend today! You don't want to miss The Annual Rusty Chippy Vintage Antique and Repurpose Show
More than 100 dealers set up to sell at this Antique Show which is held the second weekend of each March. The show is located at 3925 Highway 30 West, Huntsville, Texas. Showtimes: Saturday 10 a.m. to 5 p.m. and Sunday 10 a.m. to 4 p.m.
This Pinterest Inspired Show is the first of its kind! From Antiques to Vintage Garden, Vintage Jewelry and Handcrafted Jewelry, Painted Furniture and Demonstrations by the Artist. Learn how to makeover your own treasures with a few new ideas! 120 Repurposing ideas: Turn Junk Into Treasure
Rusty Chippy Show Focused on Vintage, Re-purposed Goods, Farmhouse, Antiques
While 2020 was a different year for everyone, 2021 was a stellar year, with amazing crowds over the two-day event. Over 100 Dealers!   We are looking to expand again this next show. Our event is focused on vintage and re-purposed goods as well as farmhouse-style and antiques. We have yard and garden items as well. We have a variety of jewelry dealers, some are handmade, some are estate jewelry, and an awesome turquoise dealer. The show features everything from Antique furniture, painted furniture to the unique and strange. There are also boutique trailers and homemade foods.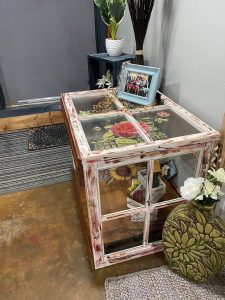 We advertise to promote the dealers and the show. Our crowd is amazing, and they come to shop! We are always so pleased with the local support from the city and the shoppers.
If staying in a local hotel, book early, they always fill up. There is so much to do in town, from the shops and restaurants to the Historical sites. You can really spend several days and not see it all. So make plans to come to Huntsville in March, and bring a friend, make it special.
Rusty Chippy Vintage Antique and Repurpose Show Features Funky Junk, Rusty & Re-Painted, Plants and Garden Decor
2019 was our first year to expand into our patio area! Very exciting for us and more shopping for you!  Sales were great, we are growing every year. We had trailer Boutiques and 28 other outdoor vendors, all for the same $7.00 entry fee. That's over 100 Dealers, coming in from all over to bring you their latest finds. Funky Junk, Antiques, Rusty & Re-Painted, Plants and Garden Decor, Re-Purposed items, and items for you to re-purpose yourself.
Happy to say in 2021, we had an awesome crowd and amazing vendors! With Dealers from Minnesota to all over Texas, the show was a huge success! Shoppers were waiting multiple-customer deep at booths, just to check out and move on down to the next booth. The weather was perfect, and they were emptying several of our Dealers Booths, the Dealers were going out to their trailer and trucks to re-stock the booths by lunchtime!
WOW!!! The Spring Shows of 2014-2019 and 2021 were amazing. We had over 2000 to 2500 customers through the door and they were shopping, not looking!
The customers loved the different and unique items and told me personally how much they loved our Spring Shows! We never expected a new show to take off as it did.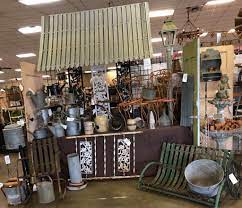 Yard Art to Re-Painted Furniture, Silver, Turquoise Jewelry, Shabby Chic
Come and visit the Rusty Chippy Vintage Antique and Repurpose Show in the Climate Controlled Main building, @ Walker County Fair Grounds in Huntsville, Texas, on March, 12th & 13th, 2022. This is a two-day event, that you will not want to miss. We have Dealers from all across the countryside, bringing their latest finds and ideas. The first Rusty Chippy Vintage Show was a huge success, from the Antiques, Yard Art to the Painted Furniture, Silver & Turquoise Jewelry, Shabby Chic, and more.
If you are not familiar with our company and your first contact with us is online: We would be pleased to hear from you! Please let us know what your needs and questions are, we will be more than happy to help.
In brief, you should know the following about us: our company was established in 2002, We have been responsible for providing the outstanding Huntsville Antique Show ever since. We have over fifteen years in the area of Promotions and Communications about Antiques & Estate Sales. Our regular customers have praised our Huntsville Antique Show, year after year.