Shoppers can experience the thrill of the hunt and the joy of the find as they browse the aisles of this annual antique show. The Huntsville Antique Show is held each September in historic Huntsville, Texas.

This show is hosted in the air-conditioned comfort of the Walker County Fairgrounds located at 3925 HWY 30, 77340, just three miles west of Huntsville on Highway 30 (Exit 116). Huntsville is located an hour north of Houston, on I-45. There is a $7.00 Admission fee and Children under 12 get in free. The show hosts more than 65 quality dealers from across the U.S. offering a wide array of antiques to suit every budget and taste.

There are "Amazing items at fantastic prices! So much to see and great food too. Love shopping this show and meeting the dealers. Highly recommend,"  said LaLainya Brown Lynas.

Vendor Dave Deef said, "This is the best antique show we have done this year!!!!  Sales are good and it's well advertised . There were so many people in our booth we had to stand outside it !!!"

Shopper Susan Vesteng said she always has a good time at this show. There are lots of goodies to choose from and Betsy Bugh said, "It's the best antique show anywhere around – – wonderful show for the vendors and for our customers."

Huntsville Antique Show Offers Interesting, one-of-a-kind Objects

According to French Garden House, Designers are blending the old with clean, crisp modern pieces for a totally new look  that is thrilling. This blending allows  you to create a home that reflects you. When you create arrangements of one-of-a-kind objects at home, they create an environment that tells your own personal story. It's all about individuality and what best expresses your style and personality. You want to surround yourself with something that isn't in every store display. Even one interesting antique, next to your contemporary sofa, can literally make a room come alive . It's important to feel you are buying something fresh, different and right for you and your family.

Most people want to design a home that is individual, decorated with an aesthetic that is personal and in a style you love. Antiques, one-of-a-kind finds, can bring personality to your home like nothing else will.
Kay King, September 8, 2018
---

Huntsville Antique Show Offers Something for Everyone: Guns, Jewelry

Shoppers will find items from furniture and fine estate & costume jewelry, gold, coins, glassware, vintage Boots for women, turquoise, Roseville, Weller, and linens, Transferware, Stoneware, Fostoria, Guns, Royal Daulton, Sterling of all kinds, Tartan Ware, Baccarat, Lalique, Lladro, Sabino, Kitchen Collectibles, Books, Postcards, Primitives and Art.
There is something for everyone, and you never know what you might find.
Shoppers are encouraged to check out photos from prior years as well as the Huntsville show dealer list. These photos offer an idea of the fun and variety that are the hallmarks of this show, which had a record Crowd in 2017! Photos can be found on the Huntsville Antique Show Facebook page.
Huntsville, Texas: Numerous Activities For Weekend Road Trip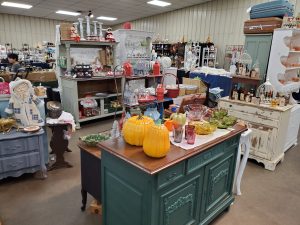 This show has been known to have crowds of over 2100 shoppers & record booth sales. Anyone who would like to be a vendor at the next show should send an email to huntsvilleantiqueshows@gmail.com. The Antique show staff is always happy to answer questions and visit with their antiquing friends. Huntsville is a historic town with an old-fashioned courthouse square, surrounded by antique shops and specialty stores. Along with finding unique treasures at the Huntsville Antique Show, visitors can also visit the home of Sam Houston located on the ground of the Sam Houston Memorial Museum complex. Huntsville is home to Sam Houston State University, the Raven's Nest golf course, and Huntsville State Park so there is no shortage of activities to fill a weekend.
The Rusty Chippy show and The Huntsville Holiday Show offer more vintage and antique shopping options throughout the year. The Rusty Chippy show is held the second weekend of March, and The Huntsville Holiday Show is held each November.