Pearl Beer Clock history began in 1930 with the Pearl Neon Clock 1930 Wooden 4 color neon sign. The Pearl Brewing Company was established in 1881 and began producing Pearl Beer in 1886.  In 1902, Otto Koehler became President and Manager of the San Antonio Brewing Association (aka Pearl Brewery). Pearl was one of only five Texas breweries to survive Prohibition.  History Pearl Brewing Company
In the early 1930s Pearl came out with its first advertising clock. The clock was a wooden art deco style with 4 different colors of neon. It is estimated that 50 or less were made.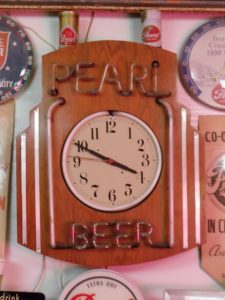 Looking for a more standard-looking clock , Pearl found one in 1938 with the Octagon Neon Clock from the Neon Products Company of Lima, Ohio.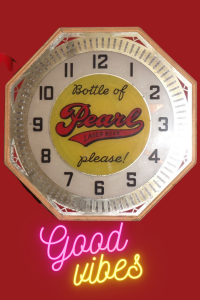 Charlie Staats  May, 2018
---
Pearl Beer Clock History: Brewery Changed Logos, Changed out Clock Faces

Pearl is the only brewery known to use and continue to reuse this standard clock well in the mid-1970s – that's 40 years! Whenever the brewery changed logos they would change out the faces when the clock came back to the brewery. Today, these Pearl clocks can still be found in Texas bars and restaurants.
There are 8 different production known octagon clock faces:
The neon ring is always a light powder blue
The front glass is always silver, silver with red or all red
The first six faces are silk screened, the last two are a total sticker dial face.
There is also one 1969 prototype face and one custom 1960s black neon octagon clock the brewery made for a restaurant.
 Pearl Neon Clocks Highly Sought After, even broken and not working
As for Pearl Beer Clock history, there are two body styles for the octagon face clocks: sharp and rounded corners. These Pearl neon clocks are highly sought after, even the broken and not working clocks have value for their parts," Charlie said. "I prefer to buy the broken ones."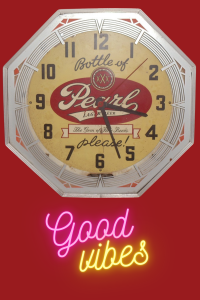 Be sure to check out the annual Texas Beer Shiner Show held each year in Shiner, Texas Annual Shiner Texas Beer Show