The Annual Texas Shiner Beer Show also known as The Lone Star Chapter of the Brewery Collectibles Club of America will host a buy, sell, and trade meet at the Spoetzl Brewery located at 603 E Brewery St, Shiner, TX 77984, on Saturday, April 29, 2023, from 9 a.m. to 2 p.m.  This show will feature beer cans, bottles, glassware, mugs, openers, mugs, coasters, posters, neon, and light-up signs, buy, sell and trade with FREE Admission.
This meet is the club's largest meet of the year with 50 collector-dealers and approximately 200 shoppers who buy, sell and trade.
The club has hosted a buy, sell, and swap meet at the Shiner city park every year since 1978, but this year it will be held at The Spoetzl Brewery.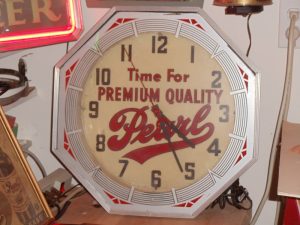 ---
Texas Shiner Beer Show: Club Members Collect Texas Beer Advertising

Charlie Staats is the local club president. The club's chapter has been in existence since 1973 and is based out of central Texas. The members meet once a quarter.
"We collect all manner of Texas beer advertising:  signs, bottles, cans, openers, neons," Charlie said. Most of the people in the club will collect everything from one brewery, such as Jax beer which was produced from the 1970s through the early 1980s.
Five of the main Texas breweries were Pearl, Shiner, Grand Prize, Lone Star and Southern Select.
Pearl Advertising Collection Features 2000 Pieces
Charlie has not missed a meet since it started in 1978, and he has personally been collecting beer advertising memorabilia since he was 13 and has amassed one of the largest Pearl advertising collections with over 2000 pieces. Read More About Pearl Beer Neon Clocks
"I am passionate about my collection and I came to the point where I wanted to know more about the brewery, the people who manufactured the items and the people who worked there." Thus the annual Texas Shiner Beer Show was born.
Texas Brewery History Newsletter Features "Looks What's Turned Up" Section
Charlie publishes a quarterly newsletter in which he talks about Texas Brewery history and any of the recent pieces he has collected. Among those recent items are a 1971 Shiner Texas Tap Beer Lighter, 1959 Lone Star 10-year pin, 1960s Lone Star beer sign, 1970s Lone Star beer clock, 1978 Pearl gun mug, 1930-40s Lager beer pocket knife, 1951 Extra Dry Pearl Lager beer premium quality light-up sign, 1952 Pearl Lager beer "gem of fine beers" light up sign, Pale Dry Pete 3D plastic sign, 1933 Sabinas label, Sabinas Brewing Company, San Antonio, Texas and a 1950s Southern Select light-up sign and a Pale Dry Pete Grand Prize Chalk statue.