It has happened to most of us.  You are at an estate sale and find a wonderful vintage/antique furniture piece and ask yourself…..do I just polish it up and enjoy it in the original state?  Or….do I slap a coat of gorgeous paint on it and enjoy a "new" creation?  This is also a question many of us agonize over when we are lucky enough to inherit a family heirloom.
Painting Antique Furniture Ideas: Things to Consider
This question is often a topic of discussion in the junking community.  There are those who just stop short of saying it is a crime to paint an old piece of furniture, while others do not hesitate to cover Grandma's old cedar chest in a vibrant hue of pink!  In talking to many devoted junkers, there seems to be somewhat of a consensus in that it really depends on the piece.  There are many things to consider when trying to determine to paint or not to paint.  For instance, is it a sentimental piece?  If so, you must ask yourself if a paint transformation could cause regret.  If painting Grandma's cedar chest will cause you to "miss" the piece the way it is burned into your childhood memory, you might not want to paint it.  Many of us have experienced "painter's remorse," and it isn't pretty!  On the other hand, if you have no firm emotional attachment to the piece, then you just have to ask yourself if painting will bring a more versatile function or perhaps make it more appealing.  For those of us who sell wonderful old treasures, it is also a decision that affects our bottom line. 
Condition, Type of Wood to Consider When Painting Antique Furniture with Chalk Paint
 Many of us would be less likely to paint a walnut or mahogany piece, but might not mind painting a more common one made from pine (I'm not hating on pine, it is just a less expensive wood!)  There are some amazing paint products out there that can reduce and, in some instances, eliminate the need to sand and/or strip before painting.  A personal favorite of mine is Dixie Belle paint.  Safety could also be something to consider because many older pieces have a lead-based finish and could be harmful to small children and/or animals.  In that case, you might want to enlist the services of a professional.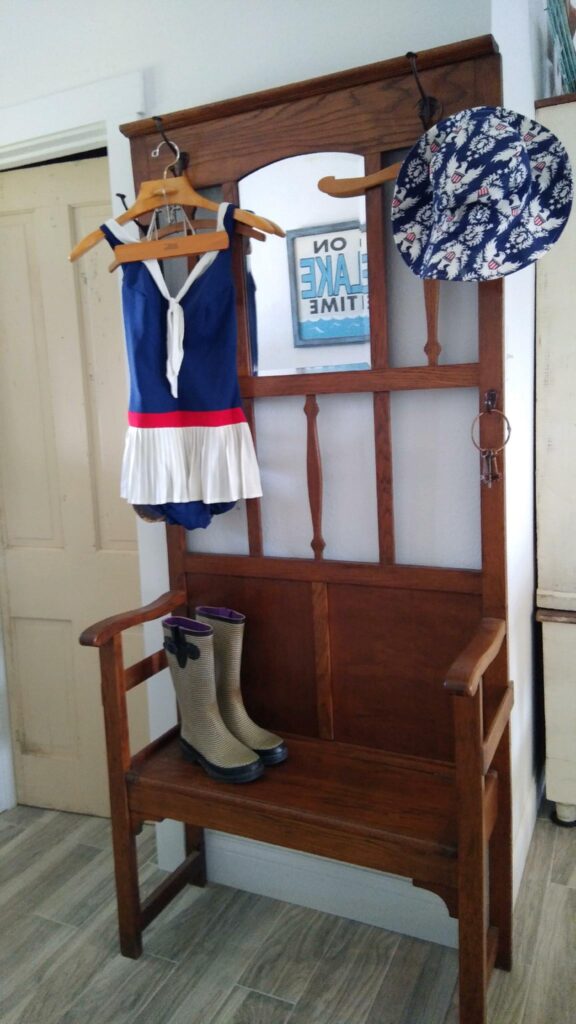 Popular Antique Furniture Painting Techniques, Trends May Not Last
You might want to be cautious of furniture redo trends that have come and gone throughout the years.  Some are good and some are memorable, but not necessarily in a good way.  For those of us who were around in the 1970s, "antiquing" furniture in avocado green and harvest gold was all the rage.  That is a trend that I personally hope never comes back!  I've seen some pretty cool pieces with stenciling and gold leafing, but just know what is popular now, might not be something you will love a few years down the road. 
Best of Both World Options: Paint some, Leave some Original on the Antique Piece
If making this decision stresses you out, consider the options of painting, then distressing to let some of the original wood show through.  This allows you to enjoy the new as well as the old.  Or, before you make the leap to paint, try a product such as "Restor-A-Finish or my favorite, olive oil to spruce up a wood finish.  This will allow you to judge the piece more adequately by viewing a cleaned-up version.  I really struggled with this decision with my farm table and chairs, so I opted for both!  I left the original stained wood on the table top and the seats of the chairs, but painted the table base and the backs/legs of the chairs.  Yes, this is an option!  It is "the best of both worlds."  However, I would never even consider painting my hall tree.  And if any of my kids paint it after I kick the bucket, I will come back to haunt them!  A few years back, I had a weak moment and let my daughter paint my great-grandmother's brass bedframe, silver.  I do regret agreeing to that, but it is okay.  It is still a family heirloom and I love it just the same!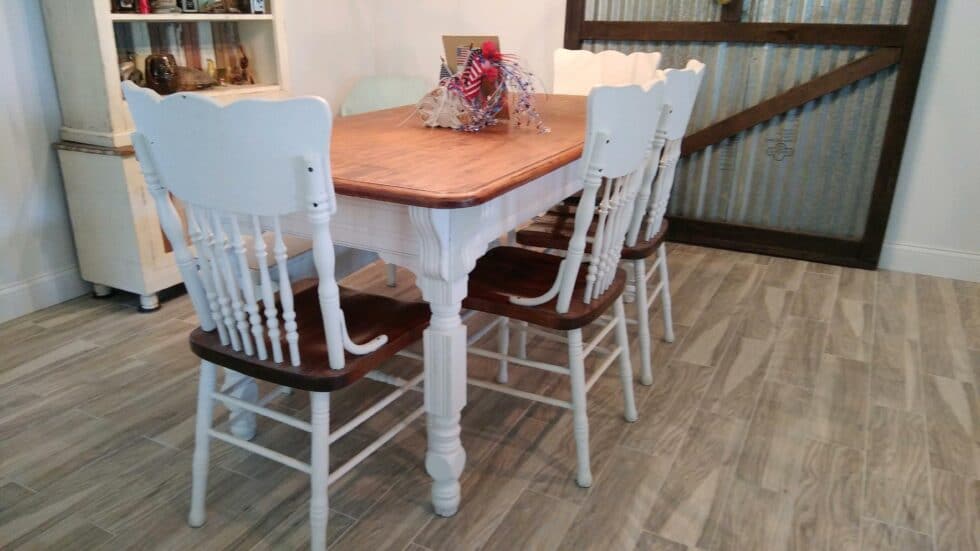 Of course, if you choose to paint an old piece and experience "painter's remorse," you can most likely strip it and re-stain, but understand that stripping (especially multiple stripping), is very hard on furniture and may cause damage in some instances.  Sanding is often a necessary evil when it comes to redoing a piece and it can also be very hard on furniture, especially antiques. 
Just give some careful thought to gage your emotional attachment, the condition of the item and the desired function of the piece.  I personally have painted some antiques, left some of them in their original state and have certainly experienced some regrets along the way.  You will make the right decision!  And if you don't, it is okay!  You will find more treasures on your junking journey.