Although the Antique Gallery of Lewisville offers an eclectic blend of antiques from many styles and periods, the Retro Revival Shop within the gallery specializes in the wildly popular Mid-Century Modern design.
This specific era of design was the topic of my recent conversation with Paul Burnett of the Antique Gallery of Lewisville. It was a lesson in cultural history. His expertise is easily accessible at the Antique Gallery of Lewisville and its various satellite stores.  See More Antique Gallery Lewisville
Mid-Century Modern Design Originated in Northern Europe, Combination of Many Styles
Soldiers returning home from the European theater after World War II brought back photographs and pieces of the clean-lined, classic Scandinavian designs as well as other European styles that fit seamlessly into the heavily industrialized Post-WWII lifestyle. Television as well as the increasing mobility of individuals expanded access to worldwide tastes and styles. Mid-Century Modern design, therefore, was not just one style, but many styles with the common components and actually originated in Northern Europe.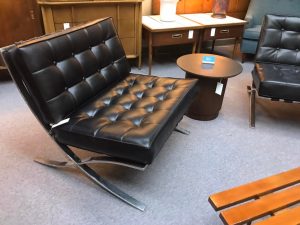 The Mid-Century Modernism era that took root in the U.S. in 1945 continued through the 1960s. Like all designs, MCM is a product of the culture and mores of the times. Changing ideals are reflected first in the architecture of the era and then trickle into interior design. The organic creations of American architect Frank Lloyd Wright have heavily influenced the style of Mid-Century Modern design. This is evident in Wright's emphasis on "elegant and humane" composition. His creations were to be accessible and appreciated by all classes of people.
However, European architects such as Rudolph Schindler, Walter Gropius, and Alvar Aalto also greatly impacted mid-century style. Austrian-born Schindler introduced cutting-edge concepts to home design such as concrete wall panels. As founder of the revolutionary art school, Bauhaus, Walter Gropius' designs focused on an integrative approach to art and design. His belief in the importance of melding functionality and form was a key to Mid-Century Modern design.
Mid Century Modern Design Architects Combined Beauty, Utility, and Practicality
Finnish architect, Alvar Aalto, revolutionized furniture design with L-leg tables and chairs. These architects as well as many others of their times melded beauty with the utility and practicality necessary for a modern faster-paced life. Consequently, the mind-set of the Mid-Century Modern period embraced style and quality for the masses and not just for the high-born. Classic, clean, symmetrical lines of the furniture leaned toward minimalism and functionality so that uncluttered rooms appeared elegant yet required less maintenance for a busier society.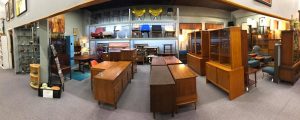 Retro Revival Shop, located inside Antique Gallery Lewisville is your one-stop destination for all things Mid-Century Modern! He is a premier purveyor of all things mid-mod from dressers, tables, chairs, art, studio pottery, and more!
Traditional woods and metals were juxtaposed beside non-traditional materials such as plastic and Formica for the purposes of versatility and usefulness. Contrasting colors were introduced into the homes of the wealthy as well as the tract homes built for blue-collar families of the era. The bright hues such as yellows and oranges of the 1950s and early 1960s could be used as accents for the warm earth tones of the late 1960s and early 1970s.
Playful, Geometric, Abstract Prints Popped in Mid-Century Modern rooms
The multi-purposed furniture was conducive to a wide range of uses and room types. Large, flat paneled windows brought nature into the home as did the use of house plants, and window treatments easily retracted to reveal the outdoors. Playful, geometric, or abstract prints popped in Mid-Century Modern rooms.
Mid Century Modern Design Fun, Comfortable, Flexible Design Concept
Mid-Century Modern, a term ironically coined in the mid-80s, is ultimately a fun, comfortable, flexible design concept. This design is streamlined and unassuming. It is light and young at heart, unlike previous aesthetic movements. Mid-Century Modern is as friendly as the Barbie Doll, as universal as Tinker Toys, and as memorable as the "I Love Lucy" episodes of its generation. The appeal of such qualities never seems to go out of style.
The Retro Revival Shop is located at 1165 South Stemmons Freeway #128. You can access it on Facebook and Instagram. A Fort Worth-based warehouse may be accessed by appointment only by calling 817-521-2018. The Antique Gallery of Lewisville is only one of 6 high-quality Antique Gallery chain malls in Texas. See More Antique Gallery Lewisville