Texas Vintage Shopper's: Looking to Buy Vintage Items is a list of vintage and antique items
that collectors are searching to purchase.
This blog is a starting point to connect worldwide buyers with the vast amount of merchandise that can be found in Texas.
Our shops and events have hidden treasures and unique and quality merchandise they know shoppers will love.
We believe our shoppers just need to be shown what they're missing out on.
LOOKING TO BUY – A VINTAGE BUYER'S WISH LIST
1) Hat Blocks and Hat Steamer – Text or Call Vincent at 940-577-1677 or email at tecxmart@gmail.com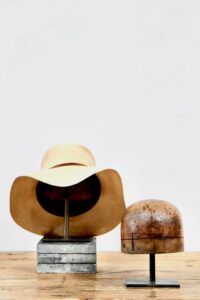 2) Violins and Violin Parts – Text or Call John Downing at 817-501-7475 or email at DowningDesigns@icloud.com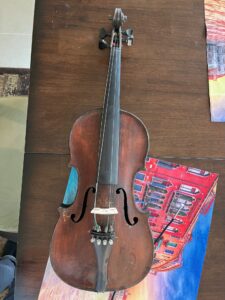 3) Candy Memorabilia – Text or Call David and Caroline Llewellyn at 817-793-9488 or email at  dslcrl1991@gmail.com
David & Caroline Llewellyn have decorated their home with their collection of candy advertising memorabilia. Here is just a glimpse of what they have done!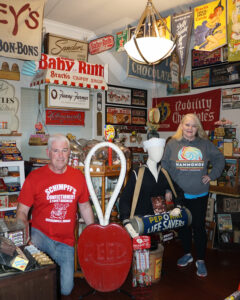 4) Oil & Gas Advertising Memorabilia – Text or Call Randy Moore at 432-661-1519 or email at moreoldsigns@gmail.com
Randy, the owner of Moore Old Signs and Antiques in Crowley, Texas, is interested in purchasing any type of advertising memorabilia and he also sells collections for other collectors.
5) Mr Christmas Magic Wand Storytime With Santa Animated Scene – TEXT Kathy at 817-919-4666
Kathy's mother-in-law had purchased the scene for her daughter many years ago. Unfortunately, it was lost while Kathy and her family
were moving to a new home, and she would like to replace it.
 This handcrafted vignette is from the Mr. Christmas Collection. It comes to life with the sights and sounds of the season. Simply tap the wand to activate the many magical features: Plays 15 Christmas carols, Santa rocks in his chair as he recites the classic tale "The Night Before Christmas", the candle and tree lights are illuminated and the train circles the treeSongs include: "The First Noel", "Silent Night", "Jingle Bells", "Deck the Halls", "O Little Town of Bethlehem, "God Rest Ye Merry Gentleman" and more! The volume control dial on the back comes with a black AC adaptor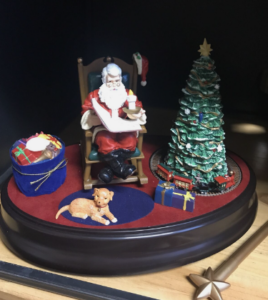 6) Any old Forbes Coffee Items – Betty Forbes Email at Unearthedforyou@gmail.com
Betty said she is always looking for old Forbes coffee items. They are hard to find.
The James Forbes Coffee Company started as the Forbes Coffee Company in St. Louis, MO in 1853.  James Forbes bought out the Franklin Tea and Coffee House which opened the same year but failed almost immediately after.  In 1963, they were bought by the Woolson Spice Company of Toledo.  Interestingly, the company discontinued its retail business as early as 1890 and concentrated on the wholesale side of selling coffee and tea.   Later that year they added a spice division which was also sold at wholesale levels only. Antique Coffee Bins: A Beginner's Guide