"I'm sorry to inform you that I just came to pick up that car," Julie Mitchell said. She had just pulled up into His & Hers Antique Mall Parking Lot in Crowley, Texas. Getting out of her car, she spotted a restored 1930 Model A Coup parked in front of the mall.  And, she wanted to find out who was driving it. Julie's philosophy has always been "Live Your Life"
At that moment, James Hotopp was standing beside his immaculate crème with black trim, Model-A Coup, talking to a hand full of admirers who had gathered around him to admire something beautiful from a bygone era.
"Oh, well, let me see the greenback first," James told Julie. "You are going to have to have a lot of money to pick this one up," He smiled, a little surprised and taken back by this stranger's comment.
They both laughed.
James, a resident of Crowley, Texas and his wife had just met some friends for their monthly get-together at His and Hers Antique Mall to have lunch at the tearoom.  His & Hers Antique Mall is a huge, classy and elegant 15,000 square foot antique mall with more than 100 well-kept and carefully displayed booths. Moore Old Signs and Antiques is located just next door to it and is filled with hundreds of authentic vintage and antique memorabilia – a lot of mantiques, signs, tobacco, primitives, butter churns, door stops and oil and gas memorabilia – a little bit of everything.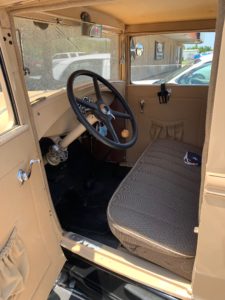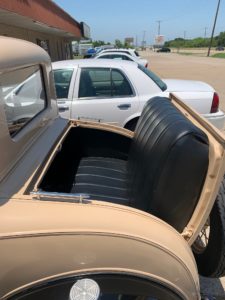 The Model A's engine purred with a soft rumble and the horn tooted grabbing everyone's attention in the mall parking area. The Ford Model A was first produced on October 20, 1927, but not introduced until December 2. It replaced the Model T, which had been produced for 18 years, according to History Ford Model-A Coup . The original Model A's came in black, green, maroon and brown. James' coup had been restored with the previous owner's preference of creme on black.
"I acquired this car from my nephew's estate 9 months ago when he passed away," James said. "He bought it about 30 years ago at a car show in Oklahoma City and his wife no longer wanted it."
There is a rumble seat in the back. James explained that the rumble seat is also called a mother-in-law seat "because you could put her in the back and you didn't have to listen to her talk," He smiled jokingly.
"I don't have it just to look at," James said. "I drive it every day around Crowley and Burleson (Texas).
Live Your Life, Die Empty, Nothing Unspent
Julie agreed wholeheartedly. "Live your life. Die Empty. Nothing Unspent. I eat out of my best. I wear my best, if I feel like putting it on and I spend my money because tomorrow is not promised."
Julie is a long-time customer at His & Hers Antique Mall. "Actually, I've been coming here for years when Ms. Claudia (Claudine Wells) was the owner. "This is a special place to me. One time in my life I was in a really bad place when I lost my youngest sister passed away. Julie's sister, Kimberley Dawn Foley, was only 45 when she passed away with AVM, which is brain arteriovenous malformation. The AVM is a defect of the brain's circulatory system. The AVM was dormant for years, and then it began to cause problems. Julie saw her sister go from being her best friend and the two of them doing everything together to not being able to do anything.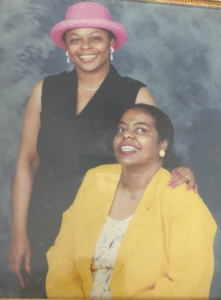 As a way to ease her grief, she decided to visit His & Hers Antiques, located at 10136 N. Crowley Road in Crowley, Texas because she does not live far from it.
"I would come to the mall and I would walk the whole mall.  I found a lot of peace – a lot of peace because everything was so beautiful and it made me think of my sister because she was beautiful and she loved beautiful things," Julie said. "I love all the doilies and the frillies."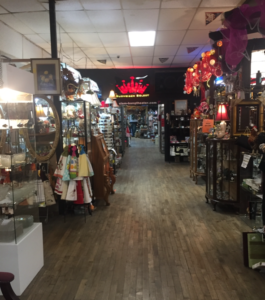 Julie said she brings people to the mall because she wants them to know how sacred the place is to her.
She explained that it is the peace she feels when she comes here. "Last year I had my birthday party in the tearoom," She said. "Everything is old and it reminds you of what life should be."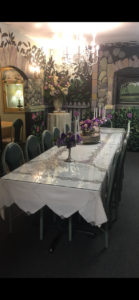 Why a stroll through An Antique Mall Can Replenish the Soul
"That's what I always wanted for our antique mall. I wanted it to be a place for people to come in and replenish their soul," said Claudine Wells, former owner of His & Hers Antiques in Crowley, Texas. "I heard a lot of stories about how people enjoyed coming in the mall and we always tried to have a smile on our faces. People need that. We have no idea the trials and tribulations that people are going through."
You never really know the
True impact you have on those around you,
You never know how much someone needed 
that smile you gave them.
You never know how much your kindness 
turned someone's entire life around.
You never know how much someone needed 
that long hug or deep talk 
So don't wait to be kind
Don't wait for someone else to be kind first
Don't wait for better circumstances or for someone 
to change. Just be kind, because you never know 
how much someone needs it.
 Nikki Banas
"I still get calls from people who tell me what the antique mall meant to them," Claudine said. Tomorrow is not promised. Live your life fully in the moments you have.