Hodges Farm Country Antiques Going Strong After 28 Years
Hodges Farm Country Antiques began 28 years ago when Dawn Hodges and Carol Turner decided  to have a "sale" in their garage during the Roundtop Antiques Show which was a mere 35 miles away. Fifteen years later, they were still selling gourds, folk art, and antiques to an unbelievable crowd.  The pair were utilizing all of the outbuildings, including an 1850 log cabin.  They had to set up tents as well to accommodate the large number of dealers who had partnered with them for the event.  The pair of entrepreneurs gave tours of the Hodges' home which included a sampling of delicious homemade cake.  For fifteen fun-filled years, an extra pasture had to be opened up for parking on the first day of the show.  Eventually, the show outgrew its accommodations.  Ms. Hodges and Ms. Turner were forced to move the show to Kenney where the indoor, air conditioned Kenney Hall provided protection from both heat and other acclimate weather conditions.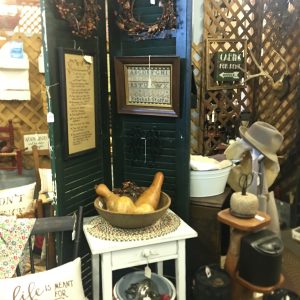 Hodges Farm Country Antiques will be open one week in the spring and one week in the fall during the Round Top Show from Tuesday through Saturday from 9:00 AM-4:00 PM.  Parking and admission are free to the public. 
There are 30+ dealers with a plethora of merchandise to entice interested customers. The venue carries American country pieces, primitives, crocks, baskets, French country finds, retro, vintage finds, textiles, assorted furniture, hand-made jewelry, and folk art.  Gourds, dried everlastings, and hints of Christmas appear in the fall of the year.  See More Hodges Country Farm Antiques
Hodges Farm: A Taste of what "Round Top Used to Be"
Dawn and Carol like to say that their show is "like what Round Top used to be." Through the years,  Frank Bielec from Trading Spaces on TLC was even a vendor for several shows adding even more notoriety and much humor to the excellent reputation of the Hodges Farm Show.
Kenney Hall is located 10 miles south of Brenham on Hwy. 36 and 7 miles north of Bellville.  When planning your trip, be sure to visit Nothing Ordinary, a huge mall packed with varied booths offering virtually everything that a shopper could hope to find.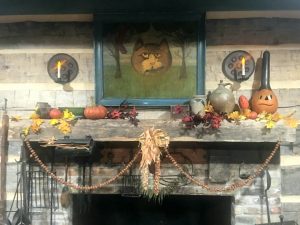 Hodges Farm Country Antiques can also be found on Facebook at Hodges Farm .  Pictures of booths are typically  posted there on Sundays. Hodgesfarmtexas on Tiktok  boasts 216,000 followers.  
Dawn Hodges and Carol Turner never ventured to dream of the success of The Hodges Farm shows.  They give credit where credit is due by thanking God for His direction in constructing and maintaining a crafter's  and collector's paradise which has never really seen a "bad show."