Triangle Sinclair is a 1935 historical filling station in Snyder, Texas. The original station was built on its own triangle-shaped city block and the unique building is also a triangle. Fully restored by Lynn Fuller & Franklin Bryant in 2012, it is not open but is used for special events. Although Lynn doesn't actually sell gas at this restored station, he decided it would be fun and make people smile if he also raised the gas price on the sign out in front of this beautifully restored triangle-shaped station.
-NOTICE- Historic Filling Station
DUE TO THE RISING OIL PRICES WORLDWIDE,
TRIANGLE SINCLAIR HAS BEEN FORCED TO RAISE ITS PRICE ON A GALLON OF REGULAR FROM 19.9 TO 29.9.
WE APOLOGIZE FOR ANY INCONVENIENCE.
THE MANAGEMENT
Today's record-high gas prices Gas Prices Most Expensive in U.S. History at the pump are nothing a historic gas filling station has not seen before, however, the major gas supplier chains, Sinclair Oil included, are not offering a personalized apology on the sign out front. Gone are the days of the personalized service when a filling station attendant waited on his or her customer. The customer never had to leave their car after pulling off the highway. They were greeted with a warm smile and personalized service to "fill er up," clean the customer's windshield while the gas was pumping into the tank, exchange pleasantries, and even check the tire pressure.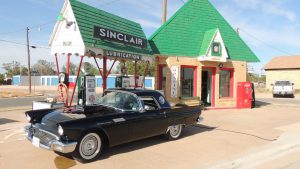 Preserving those time periods and capturing the nostalgia associated with them is a special act of service to the general public – A service that gives a special gift with a smile to those who remember the by-gone days and offers a lesson in history for those who do not – the younger generation.
Lynn has lived a life punctuated with new renovations that are more captivating than any television makeover episode on television. Born into a Scurry County ranching family, Lynn grew up hearing stories of the Indians and the original settlers of the area. His own family witnessed firsthand 136 years of living close to the West Texas land. Young Mr. Fuller's thirst for knowledge and scholarship earned him a bachelor's degree from Hardin Simmons in criminology and a master's in administration from TCU.
Breathing life into a historic Snyder location that held a soft spot for both Lynn and his wife Sheri. The Triangle Sinclair Station had once been a hang-out for locals in the 1950s and 60's who sought conversation and a cold Coca-Cola. It was built in 1935 and run by "Bushy Hedges" for the majority of that time.
The building was abandoned by 1969.  Lynn toiled endlessly to paint and repair the building to prevent it from being torn down after 20 years of dormancy. With tremendous community support, Mr.Fuller eventually bought the old station and succeeded in his efforts to completely restore the beloved building. The inside of the structure has been filled with vintage pieces from Scurry County which were generously donated by patrons. Lynn recast an old family truck to finish off the view of the station for those passing by on the highway Mr.Fuller not only extends the station's hospitality to events such as school reunions. He also personally conducts historical tours of the city. The Fuller tours focus on the historical period he knows best, the 1950s and 60's.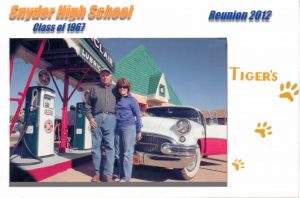 Lynn's life renovation after retirement embraces much wider ground beyond Triangle Station. He has chaired the board of Scurry County Museum and continues to serve it faithfully. His passion for preserving the complete history of Scurry County inspired him to take an active part in the Heritage Village project of Scurry County which spread s out over 20 acres. Mr. Fuller has been granted an appointment to the State Historical Commission. A portion of his vintage machine restorations has been housed in an upscale Lubbock antique store, Antiqueology.
Lynn is known far and wide as a knowledgeable, reliable historian and restoration expert. The many lives and times of Lynn Fuller teach us all that when one door closes, skilled Hands can create astounding renovations. The world and all of us in it need the breath of fresh air that renewal brings.
Lynn's first major life reinvention took place when he married his high school sweetheart, Sheri, and they moved near Ft. Worth, Texas. Lynn worked as a law enforcement officer in the city while Sheri taught school (and still does!) His career in law enforcement extended over 40 years and included some prestigious positions. His long career at the Ft. Worth Police department included the distinguished post of Supervisor of the Intelligence Division. From there, Lynn tackled the difficult challenges of Supervisor for FBI/Ft. Worth Police Department Undercover Operations. He ended his long career in law enforcement as Head of Security for the vast holdings of the Bass brothers. All the while, though, Lynn and Sheri stayed close to their Scurry County roots. Lynn learned the value of working with his hands early on the family's ranch. He learned to repair bicycles and old soda pop machines from the 1940s and 50s. It makes sense that when his dad required extra help out on the ranch, newly retired Lynn began a new chapter that embraced his dad and his roots. This new life renovation included not only taking care of his dad but also restoring the 1935 Triangle Sinclair Station.