Even the rain didn't stop shoppers from parking their vehicles behind and adjacent to the downtown area. They popped up their umbrellas and strolled through downtown to find that special item. Day shoppers looked forward to enjoying a day of Grapevine Texas Antique Shopping and more.
What's in store for the day ahead? A visit to a cozy and inviting 2-story antique mall with 150 dealers. A stop for lunch at an Italian winery and café. Visitors will also enjoy shopping at a quaint neighborhood home with a separate red shed full of European antiques.
Red Shed Cottage Chic European Antiques and Vintage Tours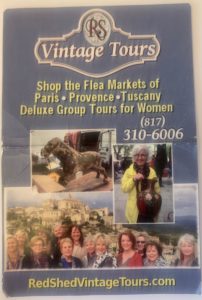 A visit to this quaint neighborhood shop is a unique experience for the antique enthusiast. This is a place where selling travel is their business, and selling antiques is their hobby. These 2 passions come together as they take like-minded souls on antique shopping to Europe.
Red Shed Antiques is a combination of antiques shop and travel agency – Riverside Travel Gallery and The Red Shed Cottage Chic This shop is a 1500-square-foot house with a large garden and a renovated red shed located between historic Main street and the residential neighborhood to the west.
This isn't your traditional antique shop. Most of the items came from Paris, France, and are unique, fun, and eclectic. You may find items like a pearl lamp for $125, a vintage pink door for $99, a vintage white wooden distressed chaise lounger, gorgeous silver antique French St. Therese formal gown for $79. Other items might include an old wooden architectural arch for $85, vintage white dressmaker vanity regular $425 for $199.
Red Shed Vintage Tours is fully booked for their 2021 vintage tour to the South of France in September and Tuscany in October, but they are currently taking reservations for their 2022 vintage tours, which can call Riverside Travel at 817-310-6006.
 Grapevine Texas Antique Shopping
Grapevine Antique Market is a huge 2-story vendor mall that offers a whole world of antique/vintage shopping. It's a place you can get lost in for hours at a time. You can't miss the grand staircase to your right as you walk in the door of the Grapevine Antique Market.
Before you climb the staircase, the ground-level shopping offers approximately 100 dealer booths where shoppers may find such items as a Monkee's ScrapBook Album, regular $50, on sale for $40 to an old white carved side table, regular $59 on sale for $44, a vintage brass lamp for $24.
"People who shop here are looking to make their house a home – looking to find that unusual one-of-a-kind piece that is going to make their home special," Assistant manager, Kenny Schmidt said.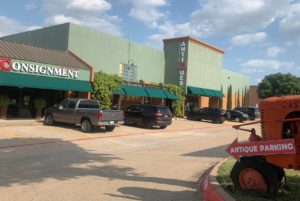 Grapevine Texas Antique Shopping – Beverly Riley's Rusty Relics
Beverly Riley's Rusty Relics booth –  the name says it all. You may see a rusty-tinged 1934 Ford fender positioned on a barge board to create a unique, one-of-a-kind table. This 1800s barge board once floated the Mississippi river – it started at the top of the river, and floated down with the goods on it. Beverly said the boards are emerging again and being sold at high prices. "If you look on the wood from the bottom side you would see all kinds of little bug tunnels – these boards have a lot of character."
Grapevine Antiques Market: Full-service Guitar Shop
Leaving the Rusty Relics booth, there are two staircases to get to the full-service guitar shop. The guitar shop is a booth with over 10,000 vintage record vinyl albums. Kenny said they have some very young people who are interested in the guitar loft. He said the younger clientele are getting into the old vinyl records and record players. Grapevine Antiques Market expanded their business to include a furniture and accessories consignment shop, "There may be some antiques, but some will not be – this is going to reach a different demographic for us."
City-Sponsored Festivals and Events
In addition to antique shopping, Grapevine offers much more.  This city knows how to throw city-wide parties with all-out glitz and glamour.  Known as the "Christmas Capital of Texas, this city offers a unique experience of Christmas for the whole family. The city is displayed with millions of lights and other decorations. You will see animated characters and costumed characters who stroll throughout the city during this season.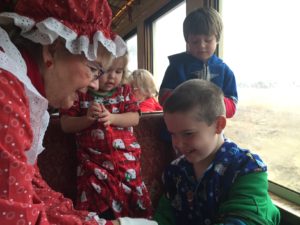 Another huge Christmas event is The North Pole Express. It is an adventure-filled train ride with Santa and Mrs. Claus. Tickets for the North Pole Express must be purchased weeks in advance and Christmas on Main offers horse-drawn carriage rides with Santa and other characters. Check out all the activities  Christmas Capital of Texas
Grapevine is also host to the largest wine festival in the Southwest. Grapefest features four days of family fun with festivals and events that include live music and entertainment on multiple stages. GrapeFest
Grapevine, Texas: Farina's Italian Winery and Café
Shoppers may stop for a glass of tea, wine, lunch, or dinner at Farina's Italian Winery and Café located at 420 S. Main Farina's Winery & Cafe. The cafe offers delicious choices with plates big enough for 2 people are inspired by the fresh tastes of Italy. Entrees range from baked lasagna, chicken alfredo, spaghetti and meatballs,  salads, soups, and french bread complemented by red wines including Texas reds, Pinot Noir, Cabernet Sauvignon. White wines include Farina's own white blend, Pinot Grigio, Chardonnay, Sauvignon Blanc, Sparkling, and house-made frozen cocktails. Thirteen delicious homemade pizzas allow you to create your own spaghetti, ravioli, and Margherita pizza.