Fenton Art Glass History
A lot of people might have heard of Fenton Art Glass before but may not know its rich history. The dealers at Antique Gallery of Lewisville have one of the largest collections of Fenton Glass in the Dallas-Fort Worth area. This article is courtesy of the Antique Gallery of Lewisville.
Fenton Art Glass Company's Founding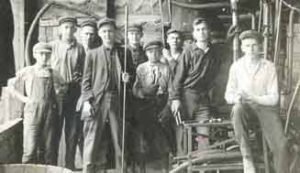 In 1905, 25-year-old Frank L. Fenton decided to try his hand at business. With only $284.86 of seed money, Frank and his older brother John, launched Fenton Art Glass Company in an abandoned glass factory building in Martins Ferry, Ohio. At first, the brothers specialized in hand painting decorations on glass blanks made by other glass manufacturers. However, they were unable to find a steady supply of glass so they soon decided to produce their own. The Fenton Brothers moved their fledgling company down the Ohio River to Williamstown, West Virginia, where on January 2, 1907, they crafted their first piece of handmade glass.
In 1909, John left to start a new glass company in Millersburg, Ohio, but other members of the Fenton family joined Frank in running the Williamstown business. Frank's drive to create new and unusual colors quickly vaulted Fenton Art Glass to the top of the handmade glass industry. See Fenton Art Glass Value Guide
Fenton Art Glass Trend Setters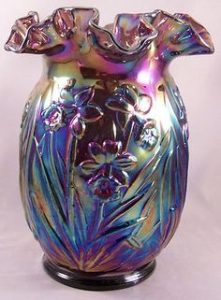 Fenton Art Glass also owes its early success to famous glass chemist Jacob Rosenthal, also known as Uncle Jake, whose glass career began shortly after the Civil War. Perhaps Rosenthal's most important contribution to the young company was his role in the creation of iridescent glass, known as carnival glass, which Fenton introduced in 1907, Rosenthal's carnival glass, chocolate glass (sometimes called caramel glass by antique dealers), and golden agate pieces are now much-sought-after collector's items.
Fenton Art Glass Experimenters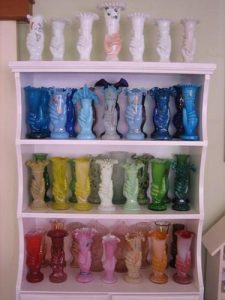 Stunning colors have long been the signature of Fenton's glass pieces. The company uses special ingredients – such as gold, manganese, and cobalt – to achieve its rich hues. In addition to elegant colors, Fenton's handpainted pieces are prized for their artistic detail. The company's team of highly trained artists renders designs with a mixture of enamel paint and finely crushed glass. The pieces are then exposed to extremely high heat to fuse the paint to the glass.
Today's Company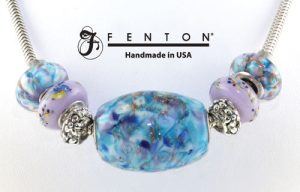 Traditional glassmaking ceased in 2011. Today the company continues by creating handcrafted art glass jewelry using many of the traditional Fenton colors and techniques, such as Milk Glass, Vasa Murrhina, and Carnival Glass beads.
Several dealers at the Antique Gallery of Lewisville in Lewisville, Texas have a stunning array of Fenton Art Glass pieces. Stop by our store to see what our dealers have or give us a call if you are looking for a specific piece to add to your collection