Meet Juliet – Vintage Lighting Golightly's Antiques Richland Hills, Texas.  Juliet takes lighting pieces that she finds all over, takes them apart, and then puts them back together. She even rewires them.
The featured photo is 2 pieces. It is a small vintage crystal base lamp with a glass rose bowl drilled out to fit the base.
Create atmosphere with unique and custom vintage lighting pieces. Light up your home with beautiful vintage light fixtures. Authentic vintage lighting can make a lasting impression and create the perfect atmosphere.
Juliet is a vendor and lighting specialist at Golightly's Antiques.
Create a Stunning, Historical Look with Mood Lighting
If you want to create a stunning, historical look in your home, then consider mood lighting.
According to Jane Adams, founder of Author Interiors, 10 Ways to Create An Intimate Atmosphere with Luxury Lighting, creating the perfect intimate atmosphere in your home is one of the key building blocks in interior design. You want your home to feel like it is welcoming you back, especially after a long day, and lighting is a critical contributor. Unfortunately it can so often be an afterthought.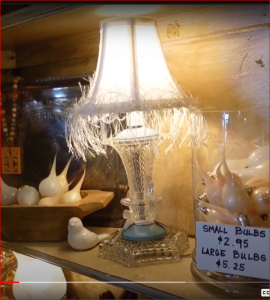 When it comes to lighting, there are three different types: Ambient, accent and task lighting. However, we also like to consider decorative lighting, as often statement lighting pieces are overlooked but are key to injecting personality into spaces.
Ambient light is like a warm hand shake when you walk into a room. Ambient lighting is the base of your room. This is the main light that you will flick on as you enter a room and will normally come from ceiling downlights, a pendant light or even wall-mounted light fixtures.
To create a more relaxing atmosphere, bring lighting to a lower level via table lamps and short floor lamps. Angle multi-directional wall lights or spotlights. The key is not to over-light, you need to have just enough to create atmosphere, but not so much that the eye doesn't quite know where to look, or what to focus on. Try to replicate the 'fireside' effect with low-level pools of light. We like to relax with light sources around and below our eyeline, such as sitting around a fireside, staying close to the warmth of flames.
Candles are the last piece of the puzzle when creating a relaxing atmosphere. They add in softer light and create a sultrier mood that is instantly welcoming.
Antique Light Fixtures and the History of Lighting
Antique light fixtures are a valuable and inspirational decorative accent in a real estate investment. The historical significance and unique styling associated with antique lighting fixtures make them a luxurious element in a home design.
One way to identify authentic antique lights is to look at the metal. If it is shiny, the glass is pristine, and the lamp generally looks newer overall, it might be a reproduction. Vintage lamps will show typical signs of aging, such as patina on the metal, discoloration, or cracks in the glass.
Read Jonathan Taylor's article Lighting in the Victorian Home. for an in-depth historical look back at the history of lighting from candles in 1837 to , oil lamps, gas, and then electric lighting.
At the start of the Victorian period most houses were lit by candles and oil lamps. Interior fittings included chandeliers (suspended from the ceiling) and sconces (fixed to the wall). However these were mainly used on special occasions, and most ordinary events after sunset took place using portable light sources such as candlesticks, candelabra (bracketed candlesticks) and oil lamps, and by the light of the fire. By the end of the period gas lighting was common in urban homes and electricity was being introduced in many.