Hillsboro, Texas Antique Shopping offers an enjoyable day of shopping and dining for the avid antique enthusiast. Hillsboro is an inviting and quaint small town. Four antique shops and several restaurants are located in the quaint downtown area so shoppers can park and use the shaded sidewalks to stroll from shop to shop.
This small town is host to several annual events worth attending. Two events featuring antiques & collectibles shopping are the Bosque County Wide Garage Sale and Antique Alley Texas. Each spring for over 20 years Bosque County has designated one weekend in April for a county-wide garage sale. Shop across Bosque County for an enormous range of items from jewelry to furniture, and antiques. Some of the sales will be open Friday and Saturday, and others, Saturday only. The most current dates, as well as a list of sales and locations, are available on the morning of the sale at Bosque County convenience stores or on the web at Bosque County-Wide Garage Sale
The second event, Antique Alley Texas –  is a SCATTERED, loosely organized treasure hunting adventure spanning 40+ miles – TWICE per year, on the THIRD Friday, Saturday & Sunday of April, and September. Local families have yard sales. Antique Alley Texas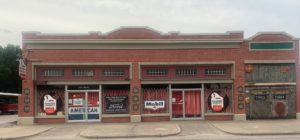 Featured on Texas Country Reporter in November 2016, is a chance to relive history for the older people and a history lesson for the Gen-Z and Millenials." It packs nostalgia in every nook and cranny with a collection of baby boomer relics that brings this era back to life. This museum is a collection of 1940s and 1950s advertising memorabilia.
The Elm Street Rod Run is an annual car show held each June Elm Street Rod Run
---
Old-fashioned Soda Fountain Serves 21 Plus Flavors of Ice Cream and Features an Ice Cream Flavor of the Month

There are several things shoppers can enjoy during a day of Hillsboro, Texas Antique Shopping.
Museum: Roadside Car Club is owned by Carroll Estes, and is a type of personal museum that is located in an old car dealership at 212 E. Elm Street. "It's a fun place," David said.
Places to Eat Downtown: Cotton Exchange Restaurant is in a beautifully restored building and offers diners farm-to-table home-style cooking. It is open for breakfast and lunch.
Quackers Cafe & Creamery opened in September 2020, after A Tisket A Tasket closed during the 2020 COVID-19 pandemic. Quackers continued the tradition as an old-time soda fountain drug store specializing in burgers, fries, milkshakes, malts,  and 21 plus flavors of ice cream made from fresh cream, whole milk and all-natural ingredients. All of the ice cream flavors are listed on a huge blackboard along with the flavor of the month. Quacker's is located in a historic 1849 building in downtown Hillsboro and also offers sidewalk seating. Quacker's Menu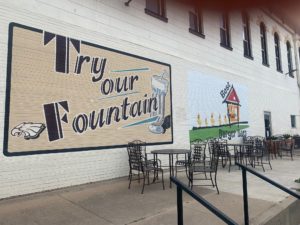 Other places to eat in town:
Two Italian places, Milano's Pizza and Frenkie's Pasta & Pizza is a popular Italian restaurant featuring wine & cocktails served in a roomy, down-to-earth space with sidewalk seating.
Two Mexican Food restaurants
Two excellent barbecue restaurants are located outside of the downtown area:
Up In Smoke- 213 I-35 NW
Taylor's Smokehouse located at 5626 TX-22
Flores Barbecue, located 12 miles west of Hillsboro in Whitney, Texas was featured in Texas Monthly for its famous homemade barbecue, smoked to perfection with flavor, tenderness, and taste, homemade potato salad made with chunks of red potatoes, Jalapeno corn casserole topped with melted cheese and crumbled bacon bits, red beans and banana pudding.
Brazos Street Market Hosts 45 Vendors Downtown Whitney, Texas
The Brazos Street Market, located at 207 N. Brazos Street in Whitney, Texas is an antiques & collectibles mall with 45 vendors. This mall has an unusual balance of items – antiques and collectibles, that interest both men and women. According to one of the vendors there, you can find an equal mix for men and for women. This shop carries both new and used items including repainted furniture with a mixture of antiques.
Hillsboro Antiques & Collectibles Mall: Vast Array of Fine Antiques 
When we arrived to begin our day of Hillsboro, Texas antique shopping, we parked on Gould street, just a short turn off of Waco Street where The Hillsboro Antique Mall is located at 114 S. Waco Street. We started our antiques & collectibles journey into Historic Downtown Hillsboro at this mall which has a vast array of fine antiques and collectibles and is open Tuesday through Saturday 10 a.m. to 5 p.m. and Sunday 1 p.m. to 5 p.m.
Potential Merchandise that may be found there included: Broyhill pale wood Harvest dining room table with 2 leaves and a set of 8 chairs, Pale Coral Silk Victorian Loveseat with almond stitch design, Ornate brown pair of 1800's Wicker Chairs, Red Roses afghan with black and teal, Made in Italy, King On Horseback statue (repaired):
Visit Goldfinger Antiques: European Antiques & Collectibles during your Hillsboro, Texas Antique Shopping Day
Update: As of June 2021, this shop has not re-opened since the COVID-19 pandemic although the storefront and merchandise make it appear open. Goldfinger Phone Number
With a short walk down the sidewalk and then across Waco to Elm Street, shoppers will find 4 more antique & collectibles shops. Goldfinger Antiques, previously located in Abilene, Texas re-opened its doors in downtown Hillsboro at 124 E. Elm Street. This shop is bursting with fine-quality antique pieces from all over the world.
Potential antique shopping in Hillsboro that may be found there included: Elegant, lavish and ornamental Teakwood root and glass coffee table, Hand-carved Chinese camphor wood trunk, Vintage hand-blown large blue glass bottle, Hand-carved mahogany king's chair, Queen-sized rustic bed
Flea & Tiques Features Variety of Merchandise
Flea & Tiques, formerly known as Decades and More, features a variety of merchandise and is located two doors down from Goldfinger Antiques at 128 E. Elm Street. Decades has the feel of an old-time merchandise store with a huge variety of vintage such as mirrors, lamps, books, furniture, and linens,
Potential antique shopping in Hillsboro at Flea & Tiques included: Gold 2 ft. tall Venetian glass mirror,  Lace doilies, Vintage white curio cabinet, 1800s Hand-colored portrait of a young girl. Vintage brown shelf with antique ceiling tin backing.
Two Sisters Antique Shop
Two Sisters is a small shop just off the downtown strip, located at 120 Covington.