2023 Fall Round Top Texas Antique Week Fair | Thursday, October 12 – Sunday, October 29
The Round Top Texas Antique Week Fair has changed so much over the past 20 years. It is diverse and caters to the very high-end, expensive designer clientele as well as the do-it-yourself clients. There are many venues selling European replicas, but shoppers can still find true antiques, vintage. Kitchenware, old unpainted and painted furniture, farm tables, old oil paintings, real old architecture pieces, old books, lamps, and framed prints. There are a few outlying garage sale setups, but the majority of the shows are quality vintage, antique merchandise. Designers love to shop at the Round Top Antiques Fair. When the show first began, it was reported that Houston socialites would come to shop the original Round Top Antiques Fair to purchase one-of-a-kind, quality antique furnishings, and accessories for their summer homes.
If you love true antiques, and you want your plantation/victorian home to look 100 years old, Round Top is the place to shop!
You will find many vendors who have developed their own look for booth design. These booths catch the customer's eye as they are walking by and make them pause & take notice. There are vendors who sell architectural salvage, primitives, white gowns, others with old cookware & belt buckles, some with freshly made potpourri & candles, cowhides & luggage, barn cupolas, custom jewelry made from your grandmother's china, painted windows, and quality upholstery textile fabric.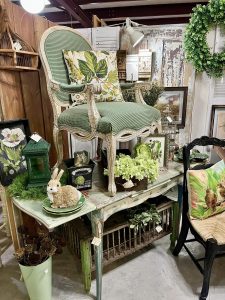 Shoppers could stay for weeks…there is that much to see and many shows overlap. It is worth the drive. Make sure you have space in your vehicle to take things home. Some vendors offer shipping. Get lodging reservations. Oh, and don't forget the Bluebonnets and Indian paintbrushes. Bring your camera and wear comfy shoes and a hat!
The number of days for shopping depends on how much walking and shopping you want to do.  A minimum of 3 full days and you still won't see it all. Either the Spring or Fall show, they are pretty much the same vendors. Pack clothes for all kinds of weather, cold, rain, and wind. Pack mud boots just in case.  A hat or visor, sunglasses, water, and snacks. A rolling cart may not be useful with gravel and bumpy fields. If you fly in, 2 empty suitcases, one inside the other, are useful for packing purchased items to take back home. Check out the video below for many more useful tips for First time Round Top shoppers. Only 2 venues (The Original Round Top Antiques Fair and Marburger Farm) charge admission. The other show venues are free, but some charge for parking and some are free. You can also check out our show map for all venues below. Good luck and have fun.
61 Round Top Texas Antique Week Fair Show Venues within a 20-mile radius
61 Texas Antiques Week Show Venues – Get Dates & Directions with GPS Connect
Round Top Texas Hotel and Lodging Information
The immediate area has B&Bs, boutique hotels, and VRBO rentals. A couple of other towns close by have different price-range hotels and motels. Also, RV parks. You will need to make lodging reservations early, they usually book up quickly.
Looking for Lodging? Click Here!
Tips for Navigating Round Top Texas Antique Week Traffic
The fact is, the infrastructure (a fancy way of talking about access roads and parking spaces in this context) is being asked to support more than it can bear.
Tips for Navigating Texas Antiques Week Traffic – Texas Vintage Shop Directory (texasvintageshopper.com)
Round Top Texas Antiques Week Fair – How It All Began
Spending the day in the countryside, wearing jeans and sneakers, eating barbecue, basking in the bluebonnets in April and the autumn air in October, immersing yourself in endlessly curious and enticing antiques – how could this not be a bit of heaven, according to the book co-authored with Beverly Harris by the Round Top Antiques Fair founder, Emma Lee Turney.
Experience Antique/Vintage Insanity At Round Top Antiques Fair – Texas Vintage Shop Directory (texasvintageshopper.com)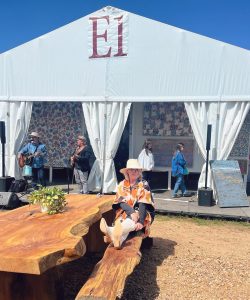 Round Top Texas Antiques Week – 11 Things to Know Before Visiting
Round Top Texas Tips and Tricks – 11 Things To Know
Round Top Texas – What You Need to Know