Ready, Set, Go – Start your Antique Alley Texas shopping trail in historic downtown Cleburne, Texas where you will find Antique Shops, Boutiques, Parking Lot Sales, Restaurants & More This 40-mile shopping event opens Friday, September 15, and ends Sunday, September 17, 2023.
Antique Alley Texas takes place twice per year on the 3rd Friday weekend, every April & September.
Start your Antique Alley trail in Historic Downtown Cleburne. Hunt for treasures at 6 Antique Stores: Antique Findery, Bus Depot Antiques, and Marketplace, Fox Antique Mall, Red Horse Antique Mall, Tina's Marketplace, and Antiques & Beyond. Find these shops and get directions here
Be sure to try a soda in a frosted glass mug, and eat an ice cream sundae made with homemade ice cream. It comes topped with your choice of favorite toppings from whip cream, to nuts, chocolate chips and cherries on top. WARNING! It could bring back some vivid memories from your days of yesteryear!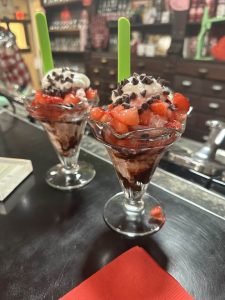 The Dillon Depot on Anglin Street is a historical Railroad Museum where the kiddos can ring a real train station bell. They are an old-fashioned diner that makes homemade ice cream and features flavors of the day. Plus, they are a vintage and antique shop that offers ghost hunting tours. Dillon Depot is now serving the "Cleburne Famous Shiftar Chili-Cheese Dog." We have duplicated the original recipe for his chili which we are using it on our chili-cheese dog. In the 50's and 60's the chili-cheese dog was eaten without the aid of a fork. Our chili is not messy or runny…but if you need a fork we can assist you with your own fork.
Historic Downtown Cleburne also hosts various vendors during Antique Alley Texas in other locations including the parking lot sale at Heritage Home, vendors at the Burger Bar 1949 parking lot, and others at the parking lot near Plaza Theatre and Liberty Hotel. Garage sales and parking lot sales take place down Anglin St. as well as several side streets.
Find conveniently located rooms and book your hotel stay in Cleburne, Texas TODAY!
You can book a room  https://www.visitcleburne.com/
Find the BEST local restaurants https://www.visitcleburne.com/businesses/dine
Check out lots of local shopping options https://www.visitcleburne.com/businesses/shop
To find out more, visit https://historicdowntowncleburnetx.com/
Learn More About Antique Alley Texas at https://www.facebook.com/AntiqueAlleyTexas
How It All Began – The 40-plus mile flea market, now called the Antique Alley Texas is a shopping event & family-friendly festival held on the 3rd Friday, Saturday & Sunday every April and September. It began as a weekend sidewalk sale 19 years ago and soon blossomed into a windfall sales event  Read More